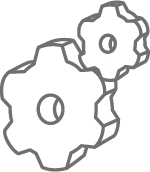 Our unique business solution transforms the orthopedic supply chain to help hospital executives and providers control costs. 
Rep Replacement: A New Business Model for the New Healthcare Economy
No more business as usual.  At Implant Partners™, we've re-engineered the implant delivery model. We remove the traditional sales distribution chain that's led to higher implant costs. Instead, we deliver the tools that enable hospital executives and surgeons to take back control and realize significant savings.
Bottom line: We help your hospital deliver high-quality care and outcomes at lower costs.
Confront Excess Costs
The Challenge: SG&A Markups
Currently, Physician Preference Items (PPI)—which include implantable hips, knees, spine, cardio products and stents—are loaded with hidden costs. In fact, the largest cost of an implant is not research and development (R&D) or manufacturing, but SG&A: selling, general and administrative expenses. Although this category contains elements such as royalty payments, insurance and general administration, the largest single expense is the commission payment to sales reps. The average SG&A for the top five orthopedic companies over the past few years was about 40 percent.1
The Solution: Direct Purchase Eliminates SG&A
Our unique business solution transforms the orthopedic supply chain to help hospital executives and providers control costs. Implant Partners sells directly to hospitals, and by removing the middleman, we eliminate many of the transitional selling expenses.
                                                     
---
The Challenge: Unnecessary Reps in the OR
The traditional sales model relies on reps to be product and procedure experts. However, keeping reps on call during surgeries in the hospital is expensive and, most times, unnecessary. In fact, a survey of more than 300 orthopedic surgeons reveals that they rarely need reps in the OR for simple, straightforward primary hip and knee procedures.2
The Solution: Empowered Clinicians
Our system helps hospitals and providers take back the OR. We provide on-site training, coaching and certification of hospital surgical technicians and supporting personnel, so they can perform the traditional functions of the rep.
---
The Challenge: Consigned Products
In the traditional sales model, implant products aren't purchased by a hospital until they're actually implanted. The surgical instruments are also typically on loan to the hospital. This practice puts a variety of products on the shelves, most of which aren't used on a regular basis. Many may even be at risk of expiration. Moreover, the vendor is responsible for inventory management, as well as maintaining and repairing instruments—charges that are passed along to hospitals.
The Solution: Ownership
Implant Partners gives you full ownership. With hospital-owned devices and instruments comes rapid return on investment (ROI). We've found that hospitals that average 500 joints per year can pay for their instruments in just 90-120 days. Our value-priced implants and instruments are stable, proven technologies manufactured in the U.S. and priced at 40-70 percent less than current contract prices.
---
Create a Value-based Culture
Hospitals that team up with Implant Partners can take advantage of numerous benefits, including:
1According to CapIO and Company 10ks
2Bain & Company survey for Wright Medical Technology